The Best Global Moving Company
---
Looking for the best global moving company? Look no further than 1 Stop Pack n' Ship. We are the leading provider of international moving services, and we can help you relocate to any country in the world. We have a team of experienced professionals who will handle all aspects of your move, from packing and shipping your belongings to providing guidance on customs regulations. We also offer a wide range of storage options, so you can be sure your belongings are safe during your transition.
Global Moving Company- Everything You Need to Know About

Are you planning on an international move and finding it hard to hire a professional moving company? Are you feeling overwhelmed? Here is everything you need to know about hiring a global moving company and complete your move safely and smoothly.
Whether it is the job or you are getting married, whether you are moving out for a year or making the new country as your new abode for a lifetime, whether it is a small move or a large move, it is never easy. Packing everything, disposing of things you are not taking with you, move out, loading, unloading, shipping, etc. These tasks are not something you can complete on your own. After all, you are not a pro in moving overseas.
That's where a global moving company comes in and saves you time, reduces the stress, and helps you complete your move efficiently. These companies take over every task related to your move so that you can focus on other important areas while they work or you.
Why Do You Need To Hire A Global Moving Company?
If you are wondering if it is worth hiring a moving service, you need to go over these benefits that will accrue with hiring a professional.
• Safety of goods
Packing everything with professional care can be very difficult and when you have to pack an entire house, it is no cakewalk. The moving company you hire holds years of experience to pack the items in a manner that ensures the safety of your stuff during the transit.
• Save time
You cannot expect yourself to pack things, load an entire truck, and even drive it to the shipping area and unload it. You need to reach your new abode in a limited period of time after doing all these things. As professional movers do it all the time, they have a systematic way to complete entire work in an efficient manner. Thus, it saves you a lot of time and money.
• Saves energy
You cannot lift your heavy couches or electrical equipment all on your own and load them on the truck. But, the professional movers have the machinery and technique to lift and carry heavy items. Thus, it saves your energy and may save you from an injury or accident.
• Security
Modern moving companies use high-end apps that help them track the movement of your goods 24*7, thus ensuring their safety.
• Way of handling goods
It is true that no one cares for your stuff as good as you do but, these professional movers know how to handle valuable and fragile items to help it reach its destination successfully.
• Experience
This is the most vital thing that makes them a preferred choice. With their experience regarding the customs rules, regulations, and laws concerning an international move, they can get your stuff cleared in no time. They also take care of all the paperwork which can consume a lot of time of yours.
Well, these are not the only benefits, but they also provide you with the storage facilities, if needed, load all of your items, protect your belongings, and all this in a very efficient manner.
Types Of Moving Companies
Now, that you have all the reasons to hire a professional moving company, you need to choose one that suits you. In order to do that, you must know about the types of moving companies.
There are three types of moving companies-
• Full-Service Moving Company
- This is the most popular moving company type for those who are making a long-distance move or are too busy to do anything. A full service moving company handles everything for your move i.e. packing of your goods, loading and unloading, transporting them, custom clearance, etc.
• Self-Service Moving Company
- You can hire such a moving company if you have time to spare, which is seldom in case of a move, and you can handle a few things on your own. A self-service moving company only delivers a truck at your place and undertakes the transportation. For the rest of the tasks, you have to take the responsibility in your own hands, i.e. packing, loading and unloading into the truck, etc.
• Specialized Moving Company
- If it is a grandfather clock that has been in your family for years or a bathtub you want to move out or some musical instruments that require special care, specialized moving companies are for you. They are trained in packing your large appliances, and antiques.
You need different type of moving companies for different types of move. Though, it is advised to hire a full-service moving company so as completing your move in time.
What Does A Full-Service Moving Involve?
Whether it is a small move to the nearest state or an international move halfway across the globe, you can simply relax and leave everything to the full-service moving company. If you don't want to lift a finger during the entire move, they are the best choice. Yes, they cost a bit more than other moving companies, but they offer another level of convenience while you can deal with other matters like paperwork or visas.
If you are confused about what does the full-service moving involves, the answer is- everything.
• Packing Materials and Supplies
- You are not packing anything, then how are you supposed to know anything about the requirement of the packing materials. Full-service movers bring the packing materials and supplies with them to pack everything in the best possible manner.
• Packing Your Stuff
- Just looking at your house and the thought of packing it all can make you panic. Thus, let the professionals do it for you. The trained packers can pack your entire house in an efficient manner. You can also entrust them with the packing of the precious artwork or antiques you have in your place.
• Packing the Large Items
- Professional movers have the expertise to pack all of your large equipment like electrical appliances and furniture, without any scruples. They disassemble the furniture as required and assemble it back after reaching the destination.
• Loading and Unloading
- You don't want to enter your new home with back pain or an injury, right? So, leave the loading and unloading to the experts. They will load everything into the truck without causing damage to anything and then unload it at the destination.
• Transportation
- They take care of transportation whether you are moving across the street or to another continent. They give you an estimate that your stuff will be transported in a given time and you can reach the destination in time to receive it.
• Unpacking
- While you settle yourself in the new surrounding, the movers will unpack for you and get your place ready for you, keeping everything in place as per the floor plan.
• Disposal Of Packing Materials
- After everything is unpacked, you are left with tones of cardboard boxes, plastics, wrapping materials, peanuts, etc. All of these packing materials need to be properly disposed of. Your full-service movers do it for you.
If you have to make a move, a full-service company is the best option, and they are worth the money they charge. You need to find a good global moving company for successfully completing your next move.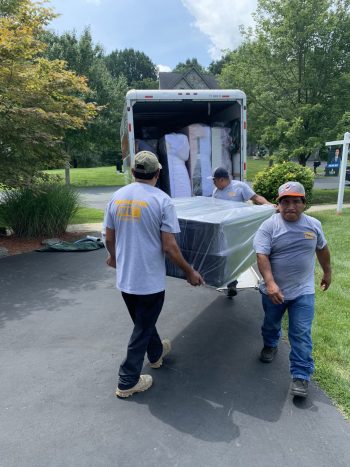 More About Our International Shipping & Moving Services
---
1Stop Pack N Ship, previously Metro Postal is Montgomery County's premier packaging and shipping center, serving the Washington DC. Metropolitan Since 1984
Nature of International Shipping
When it comes to international shipping, 1 Stop Pack n Ship offers both commercial and residential delivery services. Whether you want to ship one item or many, 1 Stop Pack n Ship can help you send it without a hassle. Individuals can send items to family and friends in other countries. You can use us to send many different things including gifts on special occasions. In addition, business can send items to customers all over the world. We ship through different types of transportation services including air and ocean. Most larger items go via ocean freight.
Full Truck Load vs Less Than Truck Load
Moving and shipping companies that do not offer both full truck and less than truck load services to their clients are not as effective. 1 Stop Pack n Ship offers both of these services so you don't have to worry about shipping large items. You can get discounts and save a lot of money by shipping through less than truck load. In less than truck load, your shipment is combined with other items from other people, lowering the cost for all.
Expedited Deliveries
If there is anything that adds value to the moving and shipping service, it's expedited delivery. For a small extra charge, 1 Stop Pack n Ship provides expedited delivery to its clients. The increase in cost will depend on the number of times and value. Please tell our representative if you want expedited shipping.
Multiple International Locations
Whether you are looking to ship to South America, Asia, Africa, Europe or the Middle East, we have you covered. We can help you send something as small as a piece of art to as large as a sofa. We take pride in our employees who are skilled and knowledgeable. Our experienced and well trained staff will make sure your item is shipped to the right address and arrives on time. Our staff is customer friendly so if you have an questions, you can always contact us by phone or through our website.
International Moving Service
---
Let us handle your overseas move. We'll pick-up, package everything, load the container, strap it on the vessel for safe transport, complete all export documentation, and clear it through customs if needed. Europe, the Middle East, Israel, India, Africa, South America, Asia, and Australia. 1 Stop Pack n Ship is proud to be your local packing and shipping company on a world-wide basis.
Get a Quote
---
Call or message us now to request a free quote.
Safe Transport
---
We safely and securely deliver packages internationally.
Full Tracking
---
We offer full tracking so can keep track of your packages.
Guaranteed on-time
---
We guarantee that your packages will arrive on time.